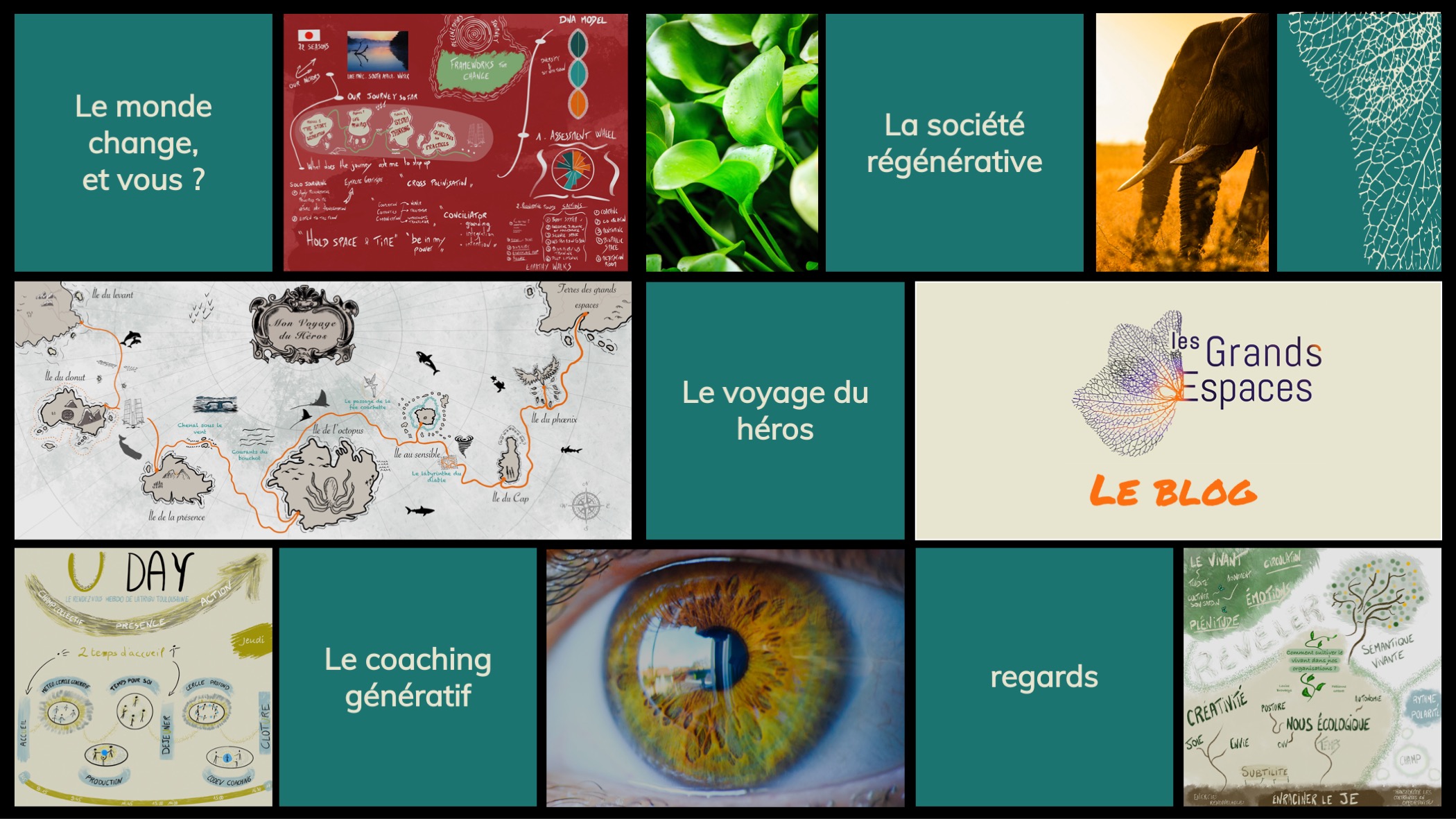 nouveaux dede 🇫🇷Bienvenue sur le blog des Grands Espaces.
Vous y retrouverez notre univers visuel et des publications sur les 5 thèmes qui nous animent:
🌪Le monde change, et vous ?
Les symptômes d'un monde en évolution, la complexité, l'incertitude, les transitions et de nouvelle opportunités.
-> Venez découvrir nos éclairages.
☘️La société régénérative
De nouveaux modèles régénératifs, arts de vivre et de faire des affaires compatibles avec le vivant. On y parle de régénération, de biomimétisme, de RSE, de nouvelles approches du leadership. 
-> Embarquez avec nous pour un futur souhaitable.
✨Coaching génératif
Réconcilier nos intelligences pour ouvrir de nouveaux espaces et aborder des transitions personnelles et collectives vers des modèles plus résilients.
-> Découvrez ces approches évolutionnaires
🧭 Le voyage du héros :
Partages de transitions de vie, de nouveaux regards portés sur le vivant.
-> Voyez avec leur regard, ressentez ce qui les anime.
👁Regards
Notre croyance est que les visuels peuvent changer le monde et qu'une image vaut 1000 mots. Photographie, captures visuelles, vidéos, comme autant de regards sur un monde en émergence.
->Plongez dans notre univers visuel.
Bonne lecture et bon visionnage ! 
Florent
🇬🇧Welcome on the blog ! 
You'll be immerged in our visual universe and find publications on our 5 favorite themes : 
🌪The world is changing, what about you ? 
Symptoms of an ever changing world, with complexitiy, unknown, transitions and maybe new opportunities.
-> Discover here our insights. 
☘️Regenerative society 
New regenerative models for society and leadership, a lifestyle and way to make business that are life affirming.  We'll speak about regenerative leadership, CSR, biomimicry. 
-> Onboard with us to a desirable future.
✨Generative coaching
Reconcile our intelligences to open new spaces, and unleash personal and collective transitions to more resilient models. 
-> Discover those evolutionnary approaches. 
🧭 The heroes journey 
Share life transitions, new ways to see life. 
-> See with their eyes, feel what are their drives. 
👁Eyes. 
Our belief is that visuals can be world changing and that an image is worth 1000 words. Photos, visuals captures, videos are insights of an emerging world. 
->Dive in our visual universe ! 
Enjoy reading and sightings ! 
Florent
#LesGrandsEspaces☘️ #RegenerativeSociety, #VisualsCanChangeTheWorld #Coaching #Transitions #CSR #RegenerativeLeadership
Adresse
13 rue des Couteliers, 31000 Toulouse
E-mail
contact@lesgrandsespaces.earth
Adresse
13 rue des Couteliers, 31000 Toulouse
E-mail
contact@lesgrandsespaces.earth
Téléphone
06 43 93 73 79